A New York Times Editors' Choice
A USA Today Bestseller
"[A] widely anticipated new book…Selingo was given extraordinary access to the selection process and the selectors at Emory University, Davidson College and the University of Washington. He uses it in his book to present one of the most nuanced, coolheaded examinations of the admission process that I've read. He explodes certain myths — for example, that SAT and ACT scores are absolutely pivotal — and confirms other suspicions, such as the ridiculous advantage conferred on middling students who play arcane sports."
"A rare inside look… It's amazing."
"In this meticulously researched and evenhanded book, the author provides a unique mix of in-depth reporting, insight, and advice that may save readers needless frustration and thousands of dollars. One of the best books on college admissions in recent memory."
"This absorbing book delves into the sometimes enigmatic world of college admissions…an invaluable tool for college-bound students and their families, guidance counselors, and college admissions personnel."
"The college admissions process can seem like a locked vault, but Jeff Selingo has found the key. He unleashes the full force of his reporting and storytelling skills to demystify—and humanize—the journey from high school applicant to college freshman. Whether you're a student, parent, or educator, this book is an illuminating and essential read."
"In his fascinating and timely book Who Gets in and Why Jeff Selingo breaks the seal on college admissions to reveal what really goes on, who gets a special look and why, what the colleges have at stake, and how a student can put their best foot forward. Frank and reassuring, Selingo presents a thoughtful critique of an outmoded system along with sound advice for students and parents who have little choice but to play by these rules."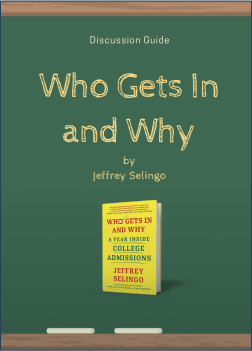 Discussion Guide: Who Gets In and Why
If you're a teenager, a parent, a high-school counselor, a college admissions officer, or just an interested observer of higher ed, "Who Gets In and Why" tells the story of a year inside college admissions process. To facilitate your discussion of the book in group settings, we've put together this discussion guide.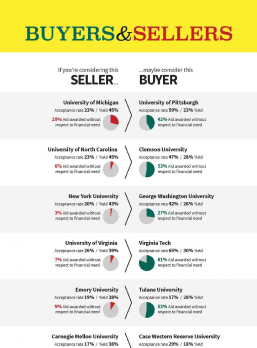 Which Colleges Are Really Buyers and Which Are Sellers
A new way to think about your college list: the Buyers and Sellers.
While cost is a concern, families have only a hazy idea of what their tuition bill might look like. So they don't think about the price of college until it's too late.